---
---
---
---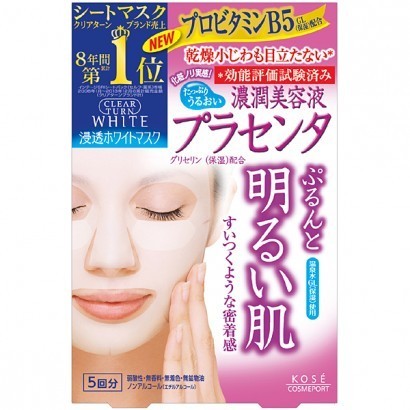 [ORIGINAL] The - Fahrenheit JAPAN PRODUCTS CLEAR TURN White Mask (Placenta) 1sheet
Rp 50,000.00
Rp 51,000.00
---
---
[ORIGINAL] The - Fahrenheit JAPAN PRODUCTS CLEAR TURN White Mask (Placenta) 1 sheet
How to Use
Use on freshly washed, clean skin.
Apply moisturizer, cream, etc. after removing the mask.
Take an unopened mask packet and leave it to warm by placing it in the bath tub in bath water roughly 40℃ for five minutes. It is also possible to use as a cold mask instead of warm, by cooling it in the refrigerator prior to use.
1. Open the flap and remove the seal covering the opening of the inner package containing the masks. Take masks out one at a time. Pull on the left and right sides of the mask to unfold. Fold the eye flaps outward.
2.Align the eye openings with your own eyes and do the same for the positioning of the mouth opening. Gently press the mask so that it adheres to your face.
3.Fold the eye flaps up over your eyes if you want to care for the skin around the eyes. (※Make sure to keep your eyes shut so that none of the mask liquid gets in your eyes. Individuals wearing contact lenses should remove them prior to using the mask.)
4.Leave the mask on for about 10 minutes. Rub the remaining serum into your skin for added results.
Cautions When Using
Use immediately after opening.
Reuse of an already used mask should be avoided for sanitary reasons.
In the case of sunburn, wait until the skin is no longer red and hot before using.
Avoid long periods of use and sleeping with the mask on.
Do not dispose of used masks by flushing them down the toilet as they do not dissolve in water.
Avoid storing the product so that it is exposed to direct sunlight and in places with especially high temperatures.
Do not store masks in the bathing area/shower room.
In order to avoid burns, do not warm the mask package in bath water any warmer than 45℃.
Do not leave an opened mask package in the bath tub for long periods of time as the remaining liquid in the package could cause discoloration, etc.
Do not take a mask out of its packaging and place it directly in bath water.
Do not warm masks in the microwave.
Do not store masks in the refrigerator for long periods of time.
Do not put masks in the freezer.
Do not use if experiencing skin problems such as abrasions, swelling, eczema, or rash-like patches.
Discontinue use if you experience any abnormalities such as redness, swelling, itchiness, or any other kind of irritation during use. Consult with a dermatologist if necessary. Symptoms may worsen with continued use.
Avoid contact with eyes. If product gets into eyes, rinse immediately with cool or warm water.
Ingredients
Water, BG, Glycerin, DPG, PCA-Na, Panthenol, Placenta Extract (Salmon), Hot Spring Water, EDTA-2Na, Acrylates/C10-30 Alkyl Acrylate Crosspolymer, PEG-50 Hydrogenated Castor Oil Isostearate, Xanthane Gum, Triethylhexanoin, Sodium Hydroxide, Phenoxyethanol, Methylparaben
Customer comments
| Author/Date | Rating | Comment |
| --- | --- | --- |